Cleaning Problems
Do you have a question or need advice on a cleaning problem, not sure which product is best suited?
Baby Minding Systems
Baby changing stations in vertical or horizontal formats. Filled with foam, safe opening/closing, dual liner dispensers and moulded bag hooks.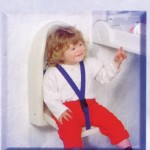 Secure seat to keep toddlers safely out of harm's way while the parent is busy. Ideally suited to changing rooms in leisure centres and clothes shops, in toilet cubicles or baby changing areas.